Explore Ford F-150 Trucks For Sale Near Valparaiso
When you want a top full-size truck, there is only one choice. The Ford F-150 is the world's most popular truck. That's because all F-150 has the power and capability to get things done. At David Taylor La Porte Ford Lincoln, we have one of the widest selection of brand new Ford F-150 in northwest Indiana. Here's a look at what makes the Ford F-150 a top full-sized pick-up.
Many Powertrain Options
With the Ford F-150, you can choose between six powertrain options. Whether you are looking for maximum fuel efficiency or brute power, there is a powertrain option for you. That includes a diesel powertrain that provides you with a serious amount of torque. From capable V-6 engines to monster V-8 powertrains, the Ford F-150 has it all.
Leading Capability
You want to make sure that your truck is up to any job. The Ford F-150 is built with utility in mind. The F-150 can handle heavy towing and hauling tasks. Also, this truck is designed to go off-road when you need it. Finally, the F-150 is a reliable daily commuter. This is the one truck that you can rely on for just about any task.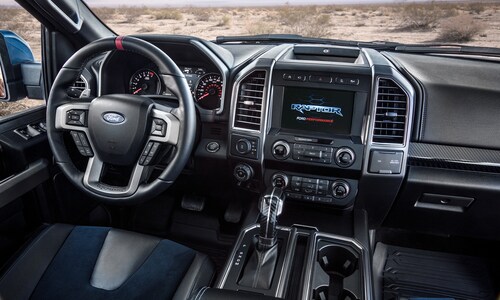 Classic F-150 Style
The Ford F-150 always looks good. That includes a timeless style that will never get old. Whether you go for the base model or the top trim level, you will get a truck that looks great both inside and out.
Many Configurations Available
With the F-150, it's easy to get the truck that you want. You can shop between all trim levels and configurations. At our Indiana Ford dealership, we have everything from short-bed options to long-bed F-150 trucks. We also have regular cab and crew cab models. Finally, we have 4X4 equipped F-150 trucks in our inventory.
Get into a Brand-New F-150 Today!
Get the F-150 deal that you deserve. Visit our La Porte Ford dealership and take a test drive today. Whether you are looking to buy or lease, we can provide you with top financing. Stop by and get your F-150 deal right now. Find the perfect new Ford truck near Valparaiso and Westville today!

Test Drive The Ford F-150